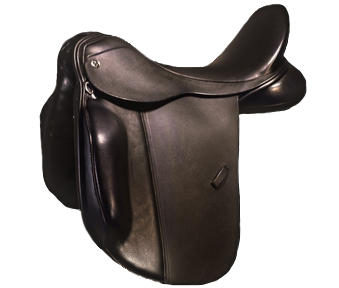 NOT AVAILABLE FOR ONLINE ORDERING.
The choice of riders who favor a more moderate depth of seat and twist with a generous seatbone position. Elite Leather.  Standard Flap length is 16".
Testimonials:

"I had no intention of buying a new saddle but when I rode in the Amadeo I knew I needed one.  My position noticeably improved and my Andalusian moved more freely forward and relaxed. I am amazed at how the Trilogy Amadeo promotes correctness and comfort." - Kaitlyn K
"My horse has a really springy trot, especially in medium and extended trot work. The Amadeo Elite has really helped my leg to not move so much. I'm more secure in riding in this saddle and my horse has more freedom moving now." - Melody M. 
"This saddle is incredible! There was no settling in period it felt great from the start. My mare has a very sensitive back and we have had no problems with her since using the Amadeo Elite." - Jayne F.